Jenkins, Kentucky
Letcher County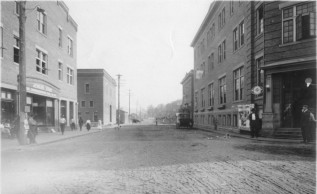 A view of Main Street abt. 1920
Jenkins is located at the foot of Pine Mountain in Letcher County, Kentucky. It is on the Sandy Valley and Elkhorn Railroad. Consolidation Coal Company came into the mountains of Eastern Kentucky and built a city.
In the fall of 1911, the Consolidation Coal Company purchased one hundred thousand acres of coal lands in Pike, Letcher and Floyd Counties, a part of the holdings of the Northern Coal and Coke Company, that had been gathered together during the previous ten years through the expenditure of much money and unbounded energy.
Please click here to see more pictures of Jenkins', or to see a video from Mining TV click here.