Dunham, Kentucky
Letcher County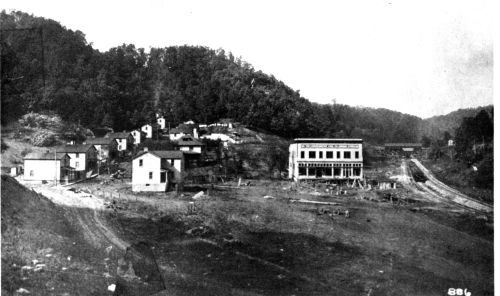 Dunham, Sept. 22, 1913
This coal town at the head of Elkhorn Creek, 10 mi. NE. of Whitesburg, is now part of Jenkins whose downtown area lies 2 mi. south. The now defunct PO of Dunham was est. on June 24, 1913, to serve a camp set up by the Consolidation Coal Co. It was named for A. S. Dunham, the company's auditor.
Dunham is a small community that isn't shown on most maps. The early development of the community was slow and simple. Only a few farm houses were scattered throughout the entire area. These farmers lived from the crops and farm animals they raised. There were no stores, churches or any type of employment in the area at that time. In 1910 through 1912, things began to change with the discovery of coal and the opening of the mines. After the opening of the mines, there was the problem of getting people to work in them since there was only a handful already in the area. They had to transported in from other areas. In order to meet these needs, the company started housing projects. They used lumber and other materials that were available in this area.
The miners made about $0.35 cents an hour, and at this time it was enough money for them to live well because the company provided all the necessities of life at a low cost. The company also built stores and hotels. One hotel was located at Dunham. It proved to be extremely helpful for people when they first came because they could not get a house. Many single men and couples without families lived in it permanently. Dunham had two stores, one was located at the mouth and it was the main store. There was a smaller one that was located in the center of the community. The recreational center was built for the people. The church set up swings, seesaws and various other games in the church yard for the children. A building was built that contained a theater, pool, barbershop and a restaurant.