To receive an Underground Mine Foreman Certification, a miner must have five years practical underground coal mining experience gained after age 18, with at least one year on an active working section of a coal mine. An Assistant Mine Foreman Certification requires three years practical experience.
Each miner receives new work assignment training (Task Training) to become certified for each new job classification.
To maintain their certification, and qualifications, certified electrical workers must satisfactorily complete annual electrical classes.
Only certified shot-firers can detonate explosives within a mine.
---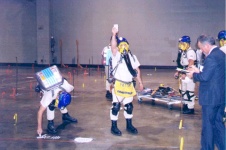 MET/EMT - A Mine Emergency Technician (MET) or Emergency Medical Technician (EMT) is required at every coal mine on every shift with a work force of 50 or fewer employees. An additional MET or EMT must be employed for each additional 50 employees, or any portion thereof.
METs are certified through training and examination administered by KOMSL under regulations established by the KOMSL. The MET certification requires 40 hours of initial training, plus a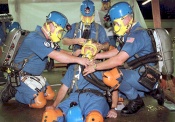 current CPR certification and eight hours of annual retraining.
All certifications and mining specialties, as established by the Kentucky Mining Board, must be signed by the Director (KOSML) verifying the holder has completed the requirements for certification.