Wheelwright, Kentucky
Floyd County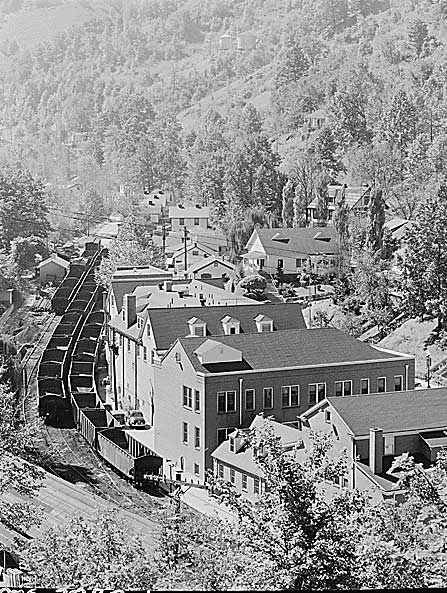 "Photo taken about 1946"
Wheelwright is a southern Floyd county town along the Right Fork of Otter Creek. It was established in 1916 by the Elk Horn Coal Company and named for Jere H. Wheelwright, president of the Consolidation Coal Company. The Wheelwright post office opened in 1916. The population in 1990 was 721.

Just to the north of Wheelwright, and now mostly within the boundaries of the town, is the community of Bypro or Wheelwright Junction. The site may have been known as Briar Bottom in the nineteenth century. In 1926 the Bypro post office opened, named for the Byproduct Coal Company. The Chesapeake and Ohio Railroad station at the site was known as Wheelwright Junction.
The coal companies came and with them miners of all backgrounds from around the world. The coal was dug from the hills and stacked on the ground. The railroad was under construction by the B and O which was later bought by the C and O railroad. A rail yard was built at Weeksbury and the family's of the B and O were built homes in the area known as silk stocking row near the center of Weeksbury. When Inland Steel came to Wheelwright all the homes had outhouses and the streets were unpaved. E.R.. Jack Price was placed in charge and he knew to get the best men to work in his mine he had to give them a reason to come to the area. He had all the homes upgraded, paved the streets built a swimming pool a 9 hole golf course and a telephone company, a dental office and a hospital. Now we take all this for granted but in the 1930s few larger towns had the amenities enjoyed by the workers in Wheelwright.. Inland Steel sold the town lock stock and jail after many strikes had cut production to a point that made the cost of the coal more than they could buy on the open market.
| | |
| --- | --- |
| | Company Hospital |
| | Another photo of downtown business section and part of company housing for Inland Steel Company, Wheelwright #1 & #2 Mines. |
| | Company Store |
| | Inland Steel Company Golf Course in Wheelwright, Kentucky - September 21, 1946. National Archives photo of employees putting on the green by Russell Lee. The course was open to all employees of Inland Steel Company, Wheelwright #1 & 2 Mines. (Source: Still Picture Branch, National Archives at College Park, 8601 Adelphi Road, College Park, MD) |