Seco, Kentucky
Letcher County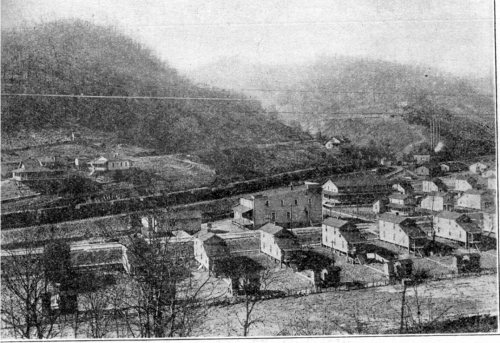 The mining town of Seco, KY. Southeast Coal Co. Operation No. 1
This coal town on US 119 and Boone Fork, 1 1/2 miles from its confluence with the North Fork of the Kentucky River, and 5 1/2 miles NE of Whitesburg. It was founded in 1915 by A. D. Smith and Harry Laviers of the South East Coal Co. for which it was named. The post office was established on Oct. 2, 1915.
Actually, 1915 was the incorporation date of the South East Coal Operation and the installation of a first class post office at Seco. The town itself was here well before that. The coal rights were sold in 1898 according to legal documents at the Letcher County Court House. Oral histories from folk 95 and greater refer to the river being turned, the office building already built, and three sawmills operating between 1905-10. Lots of people were needed to perform those tasks and most of them lived here. Only the church was built after 1912 and it was built by the people with materials supplied by the South East Coal Operation on land donated by them.
The town of Seco, an early 1900's coal mining camp town in Letcher county, still exists. It looks as if time stood still here. The buildings and
culture have changed little since the coalmining days. We are interested in becoming a hands-on history lesson since the old company store, post office, church, mine portals, bath house, pony barn, cottage, club house, etc, and most of the coal miners houses still exist. It is a historical model coalmining camp town that you can actually walk through and still experience the culture. Our activities include bluegrass music shows on Friday nights with mountain flatfoot and square dancing, gallery of 130 local artists, jam with local musicians, or learn to play the instrument of your choice, make a dulcimer, mandolin, or fiddle, learn to weave, make baskets, candles, soap,or wine, tour mine portal #1, winery, vineyards, xmas tree farm, or town, hike or ride horses on the many trails left from the mining process, learn about mining history and the reclamation efforts that have turned mountaintop removal mining sites into vineyards and a xmas tree farm, and spring thru fall camp or attend the outdoor drama "When the Whistle Blew". The Saturday before memorial day we host the MINERS MEMORIAL CELEBRATION where the lives of miners and their families are honored. This is one of the smallest coal camps in land area and it sits well off the main road which lends itself to becoming a little tourist village. It still has an intimate and welcoming atmosphere.