McRoberts, Kentucky
Letcher County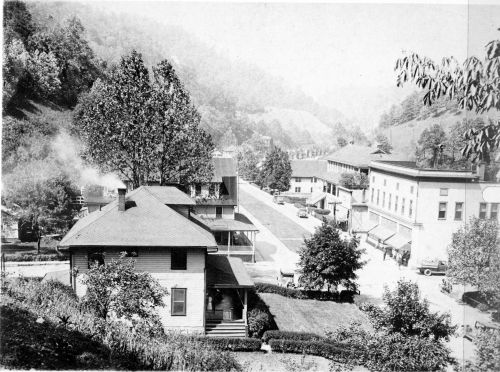 This coal town strung out along the upper reaches of Wrights Fork of Boone, a tributary of the North Fork of the Kentucky River, and 9 1/2 mi. NE. of Whitesburg, was founded by the Consolidation Coal Co. in 1912 and named for Samuel McRoberts, a New York City banker and later (1918-28) a co. director
McRoberts is a small coal town located in the Cumberland Mountains in Eastern Kentucky. It is a town which was built for only one reason--that of housing the men brought in to mine the newly purchased coal field. The company spent a tremendous sum of money developing the mines in Letcher County before shipping any coal. It was necessary to plan and build a water system, power plant, offices, tipples, houses, roads, schools, churches and any other necessary needs by the thousands of people who were to come later. In early 1912 two circular sawmills and a band saw began operating in McRoberts. With the lumber on the spot to build the houses, construction was much easier.
At the same time, a brick plant was established to furnish the bricks needed in the building projects. In 1914 there were 1600 men working at the McRoberts mine. By 1916 there were approximately 2500 men employed. This number held steady down through the 1920's. In early 1916 and for years later, there was a long waiting list for houses. You were only allowed a house if you were employed by the company and sometimes it took as long as six to eight months to get a house. The company store, recreational building, church, barber shop and shoe shops were all completed in 1916.
The mines continued to boom in McRoberts through the 1920's. There were some 2600 men employed. There were needs and services provided by the company, so there was no reason to leave the community for anything. You could get what you wanted or needed from Consol.