Lynch, Kentucky
Harlan County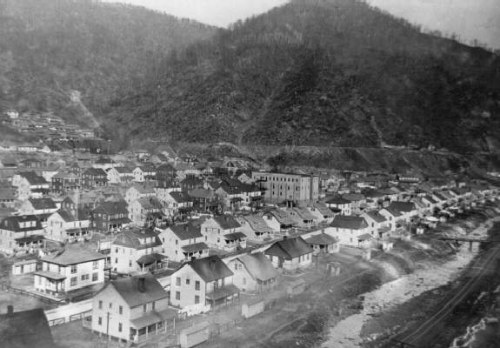 This 5th class city extends 2 1/2 miles along KY 160, in the narrow Looney Creek valley, beginning at a point 23 miles E NE of Harlan. It was founded in 1917 to house the workers of the newly developed coal operations of the US Coal & Coke Co., a subsidiary of US Steel, and was named for Thomas Lynch, the first president of the company.
Beginning in early 1917 the United States Coal & Coke Company purchased 40,000 acres of mountainous timberland in the Appalachian Mountain Range located in Eastern Kentucky and built a coal mining operation here that would last over a period of 60 years. This town was named for Thomas Lynch who then served as the Chief Executive Officer of the United States Coal & Coke Company and which during the late 1940's became the property of the United States Steel Corporation, Pittsburgh, Pennsylvania. United States Steel Corporation sold their Lynch mining assets in nineteen eighty four to Ashland Coal Company known as the Apogee Coal Company with divisions as Platt River Mining Company and/or Arch of Kentucky. The town of Lynch became incorporated in 1963. The present real estate [family dwellings] is owned by individual citizens or small business and operates on a Mayor-Council type government. Administrative Offices are maintained in the old 'Post Office bank building'; General Mine Accounting Office Building' located on Main Street.
Visit the Portal 31 which is located in Lynch, KY.