Benham, Kentucky
Harlan County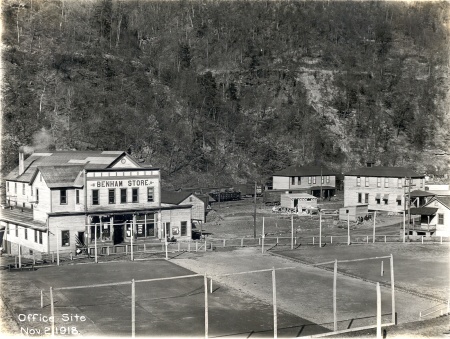 Benham Store Nov. 2, 1918
On July 23, 1911, after the town was built, the Yowell Post office, (established in 1900) was renamed Benham. Deemed "a more appropriate name" for the growing town, Benham was the name for the mountain spur which guarded the community. Another source cites this long ridge as named for John Benham, a hunter and possible Civil War deserter who moved to a hunting camp on the Benham Spur in search of the last of the Eastern Woodlands Buffalo. At that time, buffalo hunting, marked a ritual of personal triumph. The animal's extinction was seen as a watershed of "social progress."
Designed and built as a company coal town, Benham began with plans to build 408 ovens to coke coal for the giant furnaces at South Chicago Steel Works. In 1911, the first load of coal was shipped out of the L & N Railroad depot at Benham. A self-contained company town, Benham was a close-knit community, which resembled an extended family.
The town was built as a circle, around which were situated the mine offices, company store, hospital, theater, clubhouse, school, church and bandstand. These facilities provided the high quality school teachers, clergy, medical staff, consumer products, entertainment and recreation. Families worked, played, worshiped, and went to school together. Quiet rows of neatly painted houses and manicured lawns obscured pay differences.
Visit the Benham Web Site for more information.
Visit the Benham Photo Page for more old photos.