Barthell, Kentucky
McCreary County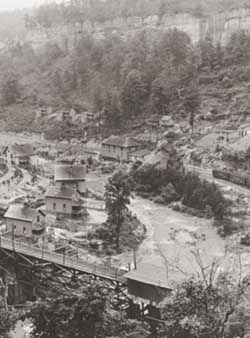 Barthell Mining Camp, the first mining camp built by J.S. Stearns after coming to the area in 1902, is the county's newest tourist attraction. Harold "Sonny" Koger, his son, Harold Dwight Koger, and their wives have invested more than $500,000 of their own money into reconstructing the facilities.


Lumber to build the original Barthell camp came from either the Sterns company mill in Michigan or their first local sawmill in Coffey Hollow, where the Blue Diamond Coal Company's Justus Mine tipple now stands. It is named after E.E. Barthell, a lawyer from Nashville who drew up the Stearns Company's articles of incorporation in 1902 and who later served as company's general counsel.


By 1909, Barthell consisted of 41 dwellings, company "Store Number Two" (there were a total of 18), a big motor house, bath house, tipple, school and a post office. Fifteen one- and two-bedroom houses, the bathhouse, barbershop and doctor's office have been meticulously restored and stocked with period antiques. The Kogers have also obtained five tram locomotives and original harnesses used by mules to pull coal from the mines.


Visitors will receive a brief orientation, 16-point historical tour, and storytelling or musical entertainment. Overnight lodging is also available.

"It's being restored as accurately as we can do it," said Sonny Koger, whose grandfather, Joseph Cain, helped set up the mines and whose father, Austin Koger, worked as a mine foreman. "We had the University of Kentucky research it, archive it. Our buildings are seemingly identical. We're trying to hold on to history."