Kentucky has two distinct coal fields, each containing numerous deposits of bituminous coal of various characteristics and mines of every type and size. In surface mining the use of large mining equipment maximizes the recovery through the excavation of one or more coal seam deposits in the large area surface mines of the gently rolling Western Kentucky coal field and in the large mountain top mines in the steeper terrain of the Eastern Kentucky coal field. Both the eastern and western Kentucky coal fields have large, modern, and efficient underground mines (of various entry types) utilizing improved mining methods with increased mechanization including continuous miners, longwall mining panels, or both.
Of Kentucky's 120.8* million tons of 2006 coal production, 73.2 million tons were produced by underground mining methods and 47.6 million tons were produced by surface mining methods.
*NOTE: This is the official U.S. DOE number for Kentucky. State and Federal numbers will differ, please see Kentucky Production for details.
The EKY and WKY breakdown for the number of mines and production for both surface and underground mining methods used in Kentucky is as follows:
2006 Production by Mine Type
---

Mine Type
No. of
Mines

Production
(million tons)

---

Surface
E KY
W KY

215
202
13

47.6
44.2
3.4

Underground
E KY
W KY

227
214
13

73.2
56.4
23.9

---

State Totals

442

120.8

---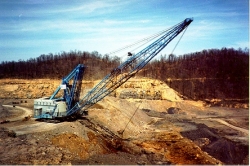 Area Surface Mine / Mountaintop Removal

Contour / Auger Mining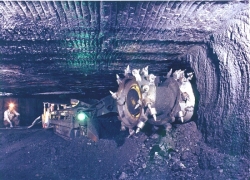 Underground Mining

Source: U.S. DOE - EIA Coal Data: A Reference, 1989.