Post-mining land use changes go hand-in-hand with economic development in Kentucky, especially in many parts of Eastern Kentucky where much needed level to gently rolling land for development is still at a premium.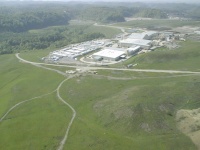 Examples of post-mining land uses such as:
Post-Mining Land Use and County
Regional Airports
Big Sandy Regional Airport
Hatcher Field Airport
Carroll Field Airport
Ford Airport
Ohio County Airport
Martin
Pike
Breathitt
Perry
Ohio

Correctional Facilities

Federal Correctional Institute
East Kentucky Correctional Complex
Medium Security Prison
Otter Creek Correctional Center
Juvenile Boot Camp
Clay, Martin
Morgan
Muhlenberg, Knott (in development)
Floyd
Breathitt

Government Facilities

Earle C. Clements Job Corps Ctr.
Army National Guard Training Ctr.
U.S. Postal Service
County Park
Madisonville South By-Pass
Solid Waste Landfills
Hazard Armory
Jail and State Police Barracks
Veterans' Nursing Home
Muhlenberg
Muhlenberg
Laurel
Ohio
Hopkins
Daviess, Greenup, Ohio, Hopkins, Perry, Lee
Perry
Perry
Perry

Fish & Wildlife

Duck Refuge Areas
Catfish Farming
Wildlife Management Area
Wetland Development
Ohio, Perry, Breathitt, Knott, Martin, Muhlenberg
McLean
Muhlenberg, Ohio, Perry
Muhlenberg

Elk in the Mountains of East Kentucky Again
Free-ranging elk returned to the mountains of East Kentucky, with reclaimed mountaintop removal areas, old reclaimed mine benches, and hardwood forests serving as their home once again. The first hunter in more than 150 years to legally kill an elk in Kentucky did so in 2001.

Farms

Starfire Project
MAPCO / Morehead Agriculture Ctr.
Martin County Coal Corp. Farm
D&R Brangus Farm
Hog Farm
Livestock Feed
Chicken / Broiler Houses
Avian Farms
Agricultural Project
Perry
Martin
Martin
Perry
Hopkins, Knox
Greenup, Harlan, Lee, Johnson, Wolfe, Whitley
Hopkins, Muhlenberg
Wayne
Pike
Industrial / Commercial

Electrical Construction Office and Shop
Electric Utility Operations Center
Industrial Scrubber Sludge Disposal
Explosive Manufacturing
Wood Fabrication Plant
Apparel Manufacturing
Mine Shops / Welding/Machine / Equip.
Trucking Company
Truck / Equipment Sales
Explosive Company
Farm Equipment
Sawmill / Logs / Lumber
Recycling Facility
Blacktop / Concrete Facilities
Oil / Gas Facilities
Cabinet Factory
Clay-Leslie Regional Industrial Park
Coalfields Regional Industrial Park
Corbin Tri-County Industrial Park
East Park Regional Industrial Park
Equipment Rental / Sales
Gateway Regional Business Park
Honey Branch Regional Business Park
Little Goose Industrial Site
Maggie Mountain Industrial Park
Paul Coffey Industrial Park
Pine Mountain Regional Business Park
Retail Outfitters
South McCreary Industrial Park
Tooling Company
Uniform Rental Services
Utility
Wireless Communications
Plastic Injection Molding Company
Mine / Electronics Supply
Industrial Parkway
United Parcel Services
Unified Power Distribution
Hopkins
Hopkins
Ohio, Daviess, Webster
Muhlenberg
Breathitt, Perry, Pike (proposed)
Perry, Boyd
Johnson, Hopkins, Knox, Muhlenberg, Ohio, Union, Whitley
Muhlenberg, Boyd
Butler
Perry, Hopkins
Hopkins
Bell, Butler, Clay, Jackson, Laurel, Pike, Whitley, Wolfe
Letcher
Laurel, Perry
Clay, Lee, Elliott
Perry
Clay, Leslie
Breathitt, Harlan, Leslie, Perry
Knox
Boyd, Carter, Elliott, Greenup, Lawrence
Boyd
Floyd, Knott, Letcher, Pike
Floyd, Johnson, Magoffin, Martin, Pike
Clay
Floyd
Boyd
Bell, Harlan, Knox, Letcher, Whitley
Clay
McCreary (in development)
Clay
Carter
Boyd, Knott, Perry
Carter
Perry
Martin
Greenup
Perry, Boyd
Martin

---

Rail-to-Trails: Old coal haul rails have been removed to make walking trails in Hopkins, Muhlenberg, Union, and Webster counties.

---

R&R/Sport

Baseball Fields
Coal Hollow Park
Elkhorn Educational Recreation Park
Golf Courses
Recreational Area
Red Fox Resort
Stonecrest Golf Course
Wayland Park
Golf (drive & putt)
Recreational Area & Fishing Lake
Athletic Facilities
Fairgrounds
Riding Stables & Trails
Campground (proposed)
Boyd
Floyd
Floyd
Clay, Laurel, Letcher, Floyd, McLean, Owsley (proposed)
Lee, Greenup
Knott (in development)
Floyd
Floyd
Webster
Pike
Letcher
Morgan
Muhlenberg
Hopkins

---

Mountaintop Mining: Mining is only a temporary land use. Mountaintop mining has created several sites for new schools, hospitals, shopping centers, parks, golf courses, housing, airports, industry, agriculture and timber in Eastern Kentucky.

---

Structural Building Sites

High Schools
Elementary School
Flea Market
Athletic Complexes
Appalachian Regional Hospital
Pike
Boyd
Perry
Letcher, Pike
Perry
Housing Developments
Bell, Boyd, Clay, Floyd, Greenup, Harlan, Johnson, Knox, Laurel, Lee, Leslie, Letcher, Martin, Perry, Pike
Church, Daycare
Mobile Home Sales
Shopping Centers
Car / Truck / Equipment Sales
Motel / Hotel
Office Complex
Storage Rental Facility
Off Track Betting
Telecommunications Call Center

Numerous small businesses in Eastern Kentucky
Laurel, Perry
Laurel
Breathitt, Clay, Knox, Laurel, Leslie, Letcher, Pike, Perry
Perry
Laurel, Perry
Morgan, Martin, Perry, Pike (proposed)
Hopkins, Perry
Perry
Perry

Source: Environmental & Public Protection Cabinet, Area Development Districts.